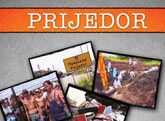 BiH, June 2013
The Outreach Programme's documentary about the crimes committed in Prijedor, Northwest Bosnia and Herzegovina was broadcast across the country in June.
Viewers of 12 local television stations in Bosnia and Herzegovina and their satellite audiences in the US, Canada and Northern Europe had an opportunity to see Crimes Before the ICTY: Prijedor, released by the Outreach Programme earlier this year. The broadcast was facilitated through a special edition of TV Justice, a monthly TV magazine by Balkan Investigative Reporting Network – BIRN BiH.
 
This is the second in a series of Outreach-planned documentaries looking into the Tribunal's contribution to the prosecution and adjudication of crimes committed in the former Yugoslavia during the 1990s. Both Prijedor and Sexual Violence and the Triumph of Justice have been used extensively by NGOs as well as academic and judicial organisations from the former Yugoslavia to as far away as South Africa for information and educational purposes.
Crimes Before the ICTY: Prijedor is now available for viewing and download on the ICTY's YouTube channel