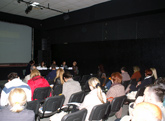 Mostar, 17 May 2012
The Outreach programme today held a screening of its documentary 'Sexual Violence and the Triumph of Justice' in Mostar, Bosnia and Herzegovina (BiH), as a part of a public dialogue on wartime sexual violence. The event was attended by more than 30 guests, including Bosnian Croat and Bosnian Muslim victims, government officials, representatives of civil society and members the local judiciaries of Mostar and Trebinje.
The public dialogue, organised in co-operation with TRIAL and NGO Medica Zenica, and with the support of the UN Women office in BiH, highlighted the challenges, gaps and efforts in obtaining justice and redress for survivors of wartime sexual violence in BiH.
Speaking about the significance of the film, Ms Saja Ćorić, head of the Centre for Victims of the Vojno camp in Mostar, said: "It is very important to watch this film and learn what the Tribunal has done for victims of rape. Although its first steps were timid, with one case after another it has built up an important jurisprudence on such crimes. I think the film should be viewed by a wider public in BiH."
The screening was followed by a roundtable discussion on the obligations of states to ensure accountability for crimes of wartime sexual violence and reparation for the victims. Also discussed were the support provided to victims and witnesses in BiH, their experiences in testifying in court, and the challenges that local courts are faced with in prosecuting this type of crime, including their lack of material and human resources. Outreach representative Almir Alić also spoke about the historic role of the Tribunal in the prosecution of wartime sexual violence.
This was one of four such events to have been held in Sarajevo, Tuzla, Mostar and Prijedor in April/May 2012 with the aim of engaging the wider community in a dialogue on these important issues.