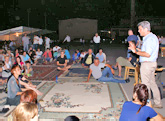 Trnopolje, 5 August 2013
The notorious Trnopolje camp today looks much the same as it did during the hot August of more than 20 years ago when it became a place of suffering for members of the non-Serb population of Prijedor municipality, though the communal building now sits in ruins and overgrown grass covers much of the camp.
In this unique atmosphere, Outreach representative Almir Alić led a workshop on crimes of wartime sexual violence and the work of the ICTY. Trnopolje survivors sat on mats spread on the asphalt lot behind the main building, where they were joined by young peace activists who had travelled from Belgrade, Rovinj, Sarajevo, Mostar, Tuzla, Travnik, Kozarac, and Prijedor. Also in attendance were students from the UK and France.
Each new slide in Almir's presentation brought forth a welter of comments from the audience and the wide-ranging discussion clearly showed just how great is the capacity of young people to face the past and work towards reconciliation. Through their engagement with each other, the young people turned a crime scene into a place of hope; hope for post-conflict recovery in the communities in the region and hope that such crimes would never be allowed to happen again.
The event lasted the whole night and included the promotion of a book - War Crimes Trials in Bosnia and Herzegovina - by Professor Goran Šimić, readings of the poetry of Enes Kišević, and the screening of various short documentaries, all of which served as a backdrop to the most important activities: bringing together young people from across the region, talking to them about the ICTY's work towards ending impunity, and ensuring that the suffering of the victims of Trnopolje is never forgotten.