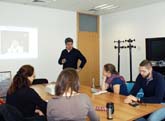 Sarajevo, 18 March 2015
A group of students from France, Czech Republic, USA and BiH who are attending a course at the Post Conflict Research Centre in BiH (PCRC) visited the ICTY office in Sarajevo today in order to get first-hand information about the work of the institution. ICTY Registry Liaison Officer in BiH, Almir Alić, informed the students about Tribunal's establishment, mandate and major achievements in the past two decades of its existence.
The students were particularly interested to learn about the contribution of the ICTY Outreach programme to normalising relations in the region, and were very surprised to hear about a number of projects engaging young people who, as the outreach experiences have shown, have the greatest potential for active involvement in the processes of facing the past. The PCRC students were also keen to learn more about the Victims and Witness Section, ICTY's organ which provides all the logistical, psychological and protective measures to witnesses.
Chloe Gaillard, a student from France, pointed out that the presentation helped her better understand the mission and impact of the ICTY's work, and especially that of the Outreach Programme.
The PCRC plans to continue its cooperation with the ICTY Sarajevo Field Office, as a part of its mission to cultivate an environment for sustainable peace and facilitate restoration of multi-ethnic relations in Bosnia and Herzegovina and the Balkans through creative multimedia projects and programmes that foster tolerance, moral courage, mutual understanding and positive change.