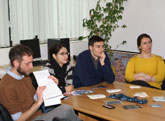 Sarajevo, 5 March 2014
The ICTY Field Office in Sarajevo today held a one-day workshop for a group of interns from the Post-Conflict Research Centre (PCRC), giving them the opportunity to learn more about the work and achievements of the ICTY.
Outreach representative in Bosnia and Herzegovina (BiH) Almir Alić presented the interns – who came from BiH, Brazil, Italy, Poland, Serbia and the USA – with a wealth of facts and information drawn from the Tribunal's jurisprudence, helping them to a deeper understanding of key issues related to international criminal law, peace-building and the broader context of transitional justice.
The interns were also particularly interested in hearing more about the experiences of the Outreach staff in working with young people from across the former Yugoslavia.
One of the visitors, Forenzo Polito from Italy said: "The presentation given to us by Mr Alić was informative and interesting, it dealt with all of the issues I was curious about. It gave us a general, logical and well-constructed overview on the hugely important work done by the ICTY."
During the second part of the workshop, the interns were shown the ICTY documentary "Sexual Violence and the Triumph of Justice", which served as the jumping off point for a discussion about wartime crimes of sexual violence and the Tribunal's pioneering work in prosecuting such offences.
Velma Šarić, a founder of the PCRC, underlined the importance of the partnership between her organisation and the Tribunal's Outreach programme: "After today's presentation, our interns will carry with them excellent impressions and awareness of the work and efforts the Outreach Programme has invested in meeting the principles of transparent justice, in addition to having gained an understanding of the Tribunal's contribution to justice and reconciliation in the countries of the former Yugoslavia. We at the Post-Conflict Research Centre believe that this component of work is very important for our interns and we would like to sincerely thank the Outreach team both for today's presentation and all previously implemented projects."