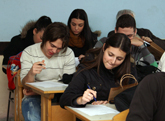 Sanski Most, 13 February 2013
"We must not forget what happened, but we should attempt to reconcile all the ethnic groups in the region and seek mutual co-operation," was the reaction of one 17-year-old from the Sanski Most Gymnasium following the two-hour presentation about the work and legacy of the ICTY given to her and her fellow students by Outreach officer Almir Alić.
Sanski Most, located in the north-west corner of Bosnia and Herzegovina, suffered greatly during the war, and it was doubtless this personal connection to the topic that lay behind the students having so many questions for Almir and being so keen to air their own perceptions about various concepts related to the Tribunal's work. Almir encouraged the students to offer their own definitions of war and war crimes, and the discussion then moved to how the ICTY deals with victims and witnesses during their time at the Tribunal.
Other topics covered during the presentation included crimes of wartime sexual violence – which the ICTY has been a pioneer in prosecuting - and review proceedings, i.e. the circumstances under which a judgement previously considered final can be revisited.
"This presentation should be shown to everyone," one student told Almir as the young people left to go to their next class.