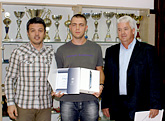 Bijeljina, 25 October 2013
Tribunal representative Almir Alić today travelled to the eastern Bosnian town Bijeljina to present second prize in the Outreach essay-writing competition to Viktor Nikolić, an 17-year-old pupil at the 'Mihajlo Pupin' Technical School.  
During a brief introductory conversation about the winning essays, all those present agreed that the students of Bosnia and Herzegovina (BiH) had demonstrated exceptional maturity in dealing with the subject of their country's recent past, and, with their clearly articulated views transcending ethnic divisions, were actively contributing to post-conflict recovery in BiH.
Viktor could not hide his excitement when awarded an iPad, which he said would help him in his every day school activities, and also in communicating with his friends from all over BiH.

"This award confirms that hard and systematic work can produce noticeable results. After having read the other two winning essays, I was encouraged by similar reflections of students from other parts of BiH, which gives hope that our young generation can contribute to positive social changes," Victor said.