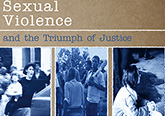 The Hague, 31 January 2012
The Tribunal's Outreach Programme organised the premiere of its feature-length documentary "Sexual Violence and the Triumph of Justice". The documentary depicts the Tribunal's historic role in the prosecution and adjudication of wartime sexual violence and includes interviews with former and current senior staff members of the ICTY, as well as testimonies from witnesses and survivors of sexual violence, who bravely gave evidence at trials.
The screening was followed by a round table discussion. The panel was composed of the Director of the documentary, ICTY's Senior Legal Adviser to the Prosecutor, Head of Support Unit of the ICTY's Victims and Witnesses Section, and the Head of Gender and Children Unit at the ICC. The panellists spoke about the challenges of prosecuting crimes of sexual violence, the role of the ICC and local judiciaries in further combating impunity for these crimes, and the challenges of securing witness testimonies and providing them with the necessary support.