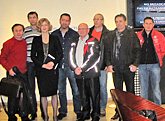 The Hague, 16 December 2013
Members of two Netherlands-based associations of survivors of the Srebrenica genocide visited the ICTY today, where they met with Prosecutor Serge Brammertz and Deputy Registrar Kate Mackintosh.
The visitors were very keen to receive first-hand information regarding the status of Srebrenica-related cases and had numerous questions, many of which related to the developments in the cases of Radovan Karadžić and Ratko Mladić. They were particularly interested in the pace of the trials and the measures that have been taken to ensure that the judgements are reached within a reasonable time-frame.
The visitors also inquired about the newly discovered evidence from the Tomašica mass grave in the Prijedor municipality of Bosnia and Herzegovina (BiH), asking whether such evidence could be used in ongoing cases.
Another topic that was discussed was the cooperation between the ICTY and local judiciaries in BiH, especially in the context of the perception of many survivors that many lower-ranked alleged perpetrators are still living freely throughout the country.
The visit was organised by the ICTY Outreach Programme in co-operation with the Dutch NGO IKV Pax Christi.