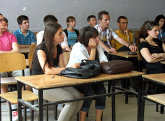 Mitrovica, 4 May 2012
Outreach officer Shkelzen Dhomi today visited the 'Hasan Pristina' high school in the northern Kosovar town of Mitrovica, and gave a presentation on the work and achievements of the Tribunal to around 30 students there.
Since the conflict ended in 1999, Mitrovica has remained an ethnically divided town, with the Serbs and the Albanians living on separate banks of the Ibar/Ibër river. The town and the surrounding municipality suffered extensive damage during the fighting, with many Muslim cultural monuments and sacred sites destroyed entirely.
The pupils were attentive throughout and did not hesitate to ask questions once Shkelzen had finished his presentation. The subject matter of their queries ranged from professional misconduct by lawyers, to whether those acquitted were entitled to compensation.
As the event wound up, the students expressed their gratitude to Shkelzen and told him they felt they had learned a lot. Shkelzen provided the students with various handouts and encouraged them to consult the ICTY's website and social media pages to learn more about daily work of the Tribunal.