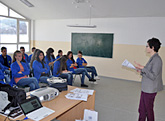 Suva Reka/Suhareka, 25 October 2013
In the penultimate edition of the current series of high school presentations, Youth Initiative for Human Rights Kosovo (YIHR KS) representatives today visited the 'Jeta e Re' school in the town of Suhareka, which is located in area heavily affected by the 1999 armed conflict in Kosovo.
The young people were immediately keen to engage with the YIHR staff and actively participated in a discussion about the Tribunal's history, mandate and trials. The presenters focused the initial part of their presentation on trials which dealt with crimes committed in Kosovo; and in the second part, the work of the ICTY was further explained in terms of the contribution it has made to international criminal justice.
The students had a number of questions for the YIHR staff, with many focusing on the local hot topic of witness protection. Following a question on what would happen once the Tribunal closes, the presenters also explained about the support the ICTY provides to local courts, allowing them to effectively pursue prosecutions against low-level accused persons not covered by the Tribunal's mandate.
 

Before their departure back to Pristina, the presenters encouraged those young people interested in learning more about the ICTY in general, and what had happened in Kosovo in particular, to visit the Tribunal's website and social media channels.