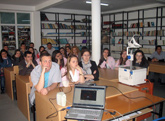 Pristina/Priština, 26 March 2012
37 students from the 'Eqrem Çabej' Gymnasium in Pristina/Priština today attended a presentation by Kosovo Outreach representative Shkelzen Dhomi. The two-hour multi-media presentation focused on the work and achievements of the ICTY, with particular attention paid to cases relating to Kosovo.
Following the presentation, the students participated in Q&A session during which the main points of interest were the re-trial of Kosovo Liberation Army (KLA) members Ramush Haradinaj, Idriz Balaj and Lahi Brahimaj, and the Limaj et al case, which also involved the KLA. The students were shown a clip of the testimony of Vojko Bakrač from the latter case. Bakrač and his son Ivan were kidnapped by the KLA and held in the Llapushnik/Lapušnik prison camp. The students appeared fascinated by the testimony, as it is very rare for them to hear about crimes committed against – rather than by - Serbs in Kosovo, and also because Ivan Bakrač was of a similar age to them during his ordeal.