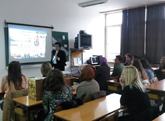 Sarajevo, 23 October 2014
Professor Amila Ahmethodžić from the Fourth Gymnasium in Sarajevo held a presentation today about the Tribunal for the final year students of this school. Professor Ahmethodžić recently participated in a workshop organised by the ICTY Outreach programme, where she gained additional insight into the work of the Tribunal. She introduced today the students to the work of the ICTY and its greatest achievements. A group of thirty students closely followed the presentation, acknowledging Tribunal's contribution to ending impunity for the most senior leaders from the former Yugoslavia, responsible for the war crimes committed.
A part of the interactive presentation showing a guilty plea statement given by one of the accused was followed by a student's comment: "There is little value in the expression of remorse, as it cannot bring back the dead". After the ICTY representative, Almir Alić provided detailed information about the purpose of plea agreements, including the satisfaction provided to the victims by establishing the facts about the crimes committed, creating a historical record, assisting investigations and testifying against other higher-ranking accused, as well as their contribution to the more efficient work of the Tribunal, the students recognised the reasoning behind such legal practice, in particular in light of the struggle against denial of war crimes.
The headmaster of the Fourth Gymnasium extended his support to the project and encouraged professor Ahmethodžić to continue introducing other students of this school with Tribunal's contribution to facing the past.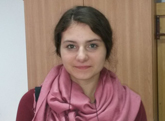 Lamija Palalija:
"I am really happy to see such topic being discussed. The presentation is very useful for all the knowledge we have gained. It's a pity that it was so short, because there are so many important issues to be discussed."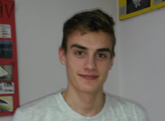 Amel Čorović:
"I am really happy to see such topic being discussed. The presentation is very useful for all the knowledge we have gained. It's a pity that it was so short, because there are so many important issues to be discussed."