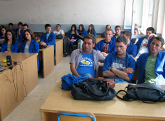 Malisheva, 11 May 2012
The 27 students from the Abdyl Frashëri gymnasium in Malisheva, central Kosovo, who gathered to listen a presentation given by Outreach representative Shkelzen Dhomi were not satisfied with just the one hour allotted by the school's deputy principal, and insisted that a second hour be added.
Following the presentation, the students had numerous questions for Shkelzen and were particularly keen to hear about the case of local man Fatmir Limaj, who was acquitted by the Tribunal in September 2007.
The students all announced themselves keen to learn even more about the work of the Tribunal and to broaden their understanding of the ICTY's role in the region of the former Yugoslavia.
Before his departure back to Pristina, Shkelzen distributed to the students a variety of specially-produced handouts and encouraged his young audience to explore for themselves the Tribunal's website and social media sites.