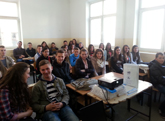 Uroševac/Ferizaj, 5 November 2014
The Students from the "Faik Konica" high school in the southern Kosovar city of Uroševac/Ferizaj today attended apresentation about the work and achievements of the Tribunal, delivered by the ICTY representative Driton Gashi.
The forty-two fourth-year students showed their eagerness to learn more about the Tribunal and engaged in discussions with Driton about the ICTY's history, establishment and mandate, sentencing practices and its structure. The presentation also included information on various ICTY trials specifically related to Kosovo, namely the cases against Đorđević, Šainović et al., and Haradinaj et al. In addition, Driton gave a broader overview of the crimes committed by all sides during the conflicts in the former Yugoslavia. The presentation also included excerpts from the testimony of several witnesses before the Tribunal and the footage of the Đorđević Trial Chamber Judgement.
The presentation was followed by a question and answer session on topics related to the work of the ICTY and students wanted to learn more about the fate of the Tribunal's vast archive, enforcement of sentences and possibility of compensation for those found not guilty.
A majority of the students rated the presentation as 'excellent' on their evaluation forms. Driton provided the students with various hand-outs and encouraged them to consult the ICTY's website and social media pages to learn more about the daily work of the Tribunal.