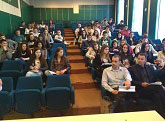 Berane, 06 May 2014
"Thank you so much, we should talk about these things much more often and although today was a unique opportunity it was not long enough. You should come again." – this was the reaction of one of the 60 students who attended a two-hour presentation and debate on the work of the ICTY, held by the Registry Liaison Officer Morgiana Brading in the 'Panto Mališić' high school in Berane, Montenegro.
This student's opinion seemed to have been shared by her classmates and teachers after a dynamic session that included many comments, questions, and a constructive, critical discussion. Although very reserved and sceptical about the Tribunal and the war crimes trials held before the courts in the region, the group was appreciative of the opportunity to listen to the first-hand, detailed information provided by Morgiana.
The students were interested in a variety of issues related to the Tribunal's work, including the process of raising an indictment, as well as specific cases related to the crimes committed in Foča, (BiH), in Kosovo and during 'Operation Storm' in Croatia. In particular, Srebrenica-related cases were discussed at length, on the basis of the facts established in the Krstić, Popović et al. and Orić trials, which enabled Morgiana to give the group a detailed account of the overall situation in Srebrenica before and during the 1995 genocide.
Following the discussion about the role of the ICTY in prosecuting crimes of sexual violence, the teacher in attendance said: "I really didn't know that sexual violence was never before considered a war crime or that no one had to answer for such horrible crimes. It is amazing that the ICTY changed that and that victims of this crime can find justice today."