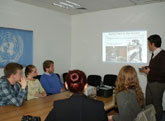 Sarajevo, 29 April 2014
A group of students with the International Affairs Association of the Linköping University, Sweden, visited the ICTY Field Office in Sarajevo as a part of their study trip aimed at enabling students to gain practical knowledge of the work of international organisations and institutions active in the region.
Almir Alić, ICTY representative in Bosnia and Herzegovina (BiH), introduced the students with the work and achievements of the Tribunal, followed by questions and comments by Swedish students. The presented video and photo materials generated great interest among the students for particular war crimes, and one student asked if any of the members of the paramilitary unit led by Željko Ražnatović, aka Arkan, was charged with war crimes. Almir explained that Ražnatović was indicted by the Tribunal and that the indictments against other high ranking military and political leaders form Serbia and Republika Srpska also included him as a participant in a joint criminal enterprise aimed at forcible removal of non-Serb population in BiH. The students were also explained that it was Sweden that one of the accused members of that joint criminal enterprise, Biljana Plavšić, served her prison sentence in after pleading guilty to the persecution of non-Serb population in BiH.
After the visit to the ICTY Office in Sarajevo, Hana Cetina, a political studies student from Linköping, pointed out that she found: "The presentation by the ICTY representative a great benefit for the visiting students, as they had a chance to learn first-hand about trials related to war crimes committed in the former Yugoslavia".