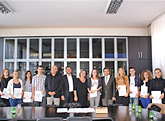 Sarajevo, 22 October 2013
ICTY Outreach programme representatives were given a warm welcome by everyone at Sarajevo's Second Gymnasium when they visited the school to hand over the third place prize in the national essay-writing competition.
The quality of all 15 of the essays submitted from this institution was particularly high, with the standout being the piece written by 18-year-old Sabina Poplata.
Speaking during the prize-giving, Aida Arnautović, director of the Second Gymnasium, underlined the importance of student participation in projects related to ending impunity for war crimes, and called for further cooperation between the school and the Tribunal on similar projects aimed at encouraging critical thinking and unlocking the students' creative potential.

"Our school is well-known for its students' participation in non-formal education projects where they have an opportunity to display different interests. Such projects present a step forward in reaching the truth and building a better future for the whole of BiH society," Ms Arnautović said.
The winning student also spoke during the ceremony, saying: "This recognition has a special meaning to me because this is a very important and painful subject that has a direct effect on our present and future. I've tried to approach the subject with maturity and to reflect not only my personal views, but the views of young people in general. This essay competition has shown that our voice is heard and appreciated after all."