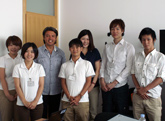 30 August 2012, Sarajevo
The ICTY Outreach office in Sarajevo today welcomed six law students from Tokyo, Japan, as a part of their study tour of the region. During their tour, the students will be looking at the role and activities of the UN and other international organisations in peace processes.
Outreach representative Almir Alić spoke about the Tribunal and its Outreach activities, and explained how they contribute to dealing with the past in the region. The students asked numerous questions, with topics including the prosecution of sexual violence and genocide before the Tribunal, sentencing policies and perceptions of the Tribunal among the public of the region.
Following the event, Sayuri Maruyama, one of the students, commended the presentation as very informative and engaging, and thanked Almir for his detailed answers which, she said, would be very helpful in their studies.