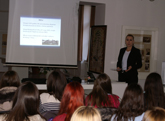 Sarajevo, 20 October 2014
"It is crucial that young people, who did not suffer the direct consequences of war in Bosnia and Herzegovina, but can certainly feel the indirect ones, are educated about issues related to war crime trials", said Hamza Agić, student of First Gymnasium in Sarajevo following the presentation about the International Criminal Tribunal for the Former Yugoslavia (ICTY) given by professor Arijana Ahić.
Professor Ahić, a participant in a recent workshop given by the ICTY, shared with her students the knowledge she gained in the form of a one-hour presentation. The presentation included audio-visual content that introduced her students to the many aspects of Tribunal's work.
In follow-up discussions, the students were keen to learn if the local judiciary could successfully take over the prosecution of war crimes cases in the former Yugoslavia. In addition they questioned if local judiciaries could contribute to the fight against impunity for persons most responsible for violations of international humanitarian law in armed conflicts.
This year's round, the third in a series of ICTY presentations in high schools in BiH concluded at the First Gymnasium, precisely where it was launched back in 2011. However, this time, instead of ICTY representative Almir Alić giving the presentations, the presentations were held by professors by Sarajevo's gymnasiums demonstrating that it is possible to successfully incorporate subjects related to transitional justice into the existing curricula. Students' reactions confirm their clear willingness to face the issues of the recent past in order to build a better future for themselves in BiH.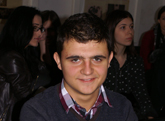 Hamza Agić:
"The presentation contributes to objective assessment and reflection of the situation which is important for the generations of future leaders of Bosnian society."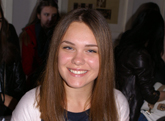 Dženana Bukarić:
"I'm glad to have had the opportunity to learn about the work of the institutions that we really didn't know much about."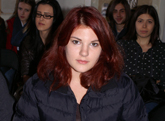 Merjem Bajraktarević:
"The presentation was very instructive with ample information that is useful for our understanding of both national and international judicial systems. I hope the project will be implemented in the coming years because I believe that our younger colleagues should also benefit from such education."