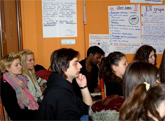 Bijeljina, 9 March 2012
Almir Alić from the Outreach office in Bosnia and Herzegovina (BiH) today gave a presentation on the role of the ICTY in transitional justice to a group of 25 high school students as a part of the seven-day 'Human Rights School for Youth' in eastern town of Bijeljina.
The summer school has been organised by the Helsinki Committee for Human Rights in Republika Srpska, and has gathered together young people from the two entities that make up BiH, specifically, for this edition of the school, from Zvornik, Maglaj and Teslić.
Almir's presentation was followed by a lively discussion on a number of topics relating specifically to the Tribunal, as well as on more general issues associated with human rights and transitional justice.
Feedback received from the students and the organisers was overwhelmingly positive.