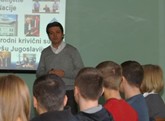 Tuzla, 10 April 2012
A group of 30 students and teachers at the Meša Selimović high school in Tuzla, Bosnia and Herzegovina, participated in the latest Outreach Programme presentation on the work of the ICTY on 10 April 2012.
The two-hour presentation generated numerous questions about ICTY judgements, the duration of the Tribunal's mandate and its ability to successfully try all those who stand accused of war crimes committed in the former Yugoslavia.
The students were interested to learn what happens if an accused dies before the completion of their cases, and also if war crimes could be committed in a defensive war.
Sociology teacher Smiljana Volna underlined the importance of the younger generations understanding the notion of individual responsibility for war crimes, which protects entire ethnic communities from being labeled as collectively responsible. "Apart from its role in bringing justice to victims and punishing the perpetrators, it is also very important to underline the moral dimension of trials before the Tribunal in The Hague," Ms Volna said. "Since our peoples in this area are bound to live together, young people should understand the Tribunal's contribution to the process of reconciliation and this should even be discussed in the course I teach."
 
The students praised the presentation and expressed great interest in testimonies given in the Srebrenica cases. A 19-year-old girl said: "Reconciliation is possible because the future rests in the hands of young generations. Past events should not be forgotten. However, we should not spend the rest of our lives in hatred, but turn to the present and focus on creating a better future."
One fourth-year student, said: "This was a chance for me to learn more about humanitarian law and certain terms I've often heard, but have never had clarified. The visual presentation was very efficient in raising awareness among the younger generation. I will use the given contact addresses to find more information on the internet about the work of the Tribunal and specific cases."
The presentation in Tuzla attracted considerable media attention, including coverage by the Tuzla Cantonal Television and Radio Free Europe. The school's teacher and a student counsellor expressed their appreciation for an 'excellent and very informative' presentation and welcomed the possibility of cooperation in the future.