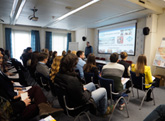 The Hague, 2 March 2015
As part of on-going cooperation between the Outreach Programme and the UN Club of the Faculty of Political Sciences of Belgrade University, Serbia, a group of 50 students visited the ICTY today. During their visit, the students had the opportunity to attend a hearing in the Mladić case and to meet with the Outreach Officer Nenad Golčevski, who introduced them to the work and achievements of the ICTY, and in particular, the role of the Outreach Programme in providing information about the Tribunal to the communities in the former Yugoslavia.
After the presentation, the students had an abundance of questions on a variety of issues ranging from ethnic composition of persons convicted by the ICTY, to the Tribunal's role in fighting the culture of impunity in the former Yugoslavia. With respect to the on-going cases, the guests wanted to know more about the reasons for provisional release of Vojislav Šešelj, the conditions under which it was granted and how likely it is that this trial will reach the judgment stage. Some of their questions showed that the students do not have comprehensive information or have incorrect understanding of some of the Tribunal-related issues – for example they believed that Serbia, as a state, can be punished for actions of Vojislav Šešelj during his provisional release.
Nenad addressed some of the misperceptions expressed by the students, and used those examples to stress the relevance of the work conducted by the ICTY Outreach Programme in narrowing the gap between The Hague and the Balkans.
While the students from Belgrade voiced strong critical views of the work of the ICTY, they also expressed satisfaction with an opportunity to visit the Tribunal and discuss these issues directly with its representatives.