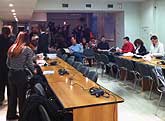 Belgrade, 28 February 2012
Morgiana Brading, from the Tribunal's Outreach office in Serbia, today spoke at a press conference in Belgrade during which the latest survey on perceptions and attitudes towards the ICTY and the war crimes trials of Serbian citizens was presented.
The survey was funded by the Organisation for Security and Cooperation in Europe (OSCE) Mission in Serbia and co-ordinated by the Belgrade Centre for Human Rights (BCHR). Other speakers at the event included Professor Vojin Dimitrijević from BCHR, Dušan Ignjatović from the National Council for Co-operation with the ICTY (NCC), and Ivan Jovanović from the OSCE. The press conference was attended by around 70 journalists, NGO representatives and diplomats.
The survey results showed that a majority of citizens have a negative view of the Tribunal and minimal knowledge of cases both before the ICTY and national courts.
Morgiana and the other panellists discussed the results, concluding that the process of facing the past is still in its infancy in Serbia, and that limited and often sensationalistic media coverage is not helping to bring the process forward.
Mr Ignjatović suggested that one major problem is that it is easier for the public to believe that the ICTY is anti-Serbian rather than acknowledge that Serbs committed serious crimes in the conflicts in the 1990s.