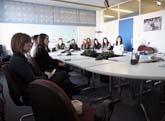 The Hague, 11 March 2015
As part of the series of events marking 20 years since the genocide in Srebrenica organised by 'Mladi-BiH', a group of twelve young people originally from BiH who live in the Netherlands visited the ICTY today.
During their visit, the group had the opportunity to attend a hearing in the Ratko Mladić case. After the hearing, they met with Outreach Officer Nenad Golčevski, who informed them about the structure, the mandate and the achievements of the Tribunal as well as the challenges it is facing during the final years of its work.
In addition the group met with OTP Trial Attorney Adam Weber who talked to them about the ICTY Srebrenica related cases. The guests had many questions in regards to the Ratko Mladić trial. They were keen to know why it is taking so long for this trial to end. Adam explained that the trial is very complex in many aspects. He stressed that for example, all the evidence submitted in the case needs to be translated in order for the accused to be able to follow the trial. In addition, it takes quite a significant amount of time for both the Prosecution and Defence to go through all of the information and evidence presented.
The visit was organised by youth organisation 'Mladi-BiH' in cooperation with the ICTY Outreach Programme.