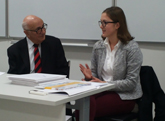 Sarajevo, 27 November 2014
As a part of his three-day visit to BiH, President of the International Criminal Tribunal for the Former Yugoslavia (ICTY), Judge Theodor Meron, met with high school students and teachers of Sarajevo's Second Gymnasium to thank them for their participation and excellent results achieved in the project aimed at brining the work of the Tribunal closer to high schools students in the former Yugoslavia.
Aida Arnautović, Director of the Second Gymnasium, welcomed the ICTY delegation and underscored the importance of active engagement of young generations in the process of facing the past, describing the experiences of her school in working with the Tribunal's Outreach programme as very positive.
After that, President Meron briefly returned to his role as a professor, and during his presentation spoke about the importance of education that had changed his life for the better and which can also shape the future of Sarajevo high school students.
"I feel an incredible energy coming here, and it makes me believe that your country can build great and positive future, thanks to your talents, drive and vitality", Judge Meron said at the end of his presentation.
The mature thinking of Sarajevo Gymnasium students was expressed through numerous questions they posed to the Tribunal's President in connection to the right of accused to fair trial, but also the need for victims get appropriate satisfaction.
Particularly moving was President's encounter with the former student of the Second Gymnasium, Sabina Poplata, who was awarded at last year's national competition for the best essay on importance of war crime trials. Today, Sabina is a successful student at the Sarajevo Law Faculty. In her brief conversation with the President, she pointed out that the situation in BiH today is not good, but said it is precisely this that gives her additional strength to continue her education and stay in BiH in order to help create better future for the coming generations together with other young people.
As a part of his visit to Second Gymnasium, President Meron handed certificates of appreciation to the high school directors and professors of the five Sarajevo gymnasia who took active part in the ICTY workshop, where they were trained to give independent presentations as a part of their regular classes.