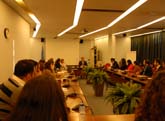 The Hague, 04 February 2015
As a part of the on-going cooperation between the Outreach Programmes of the ICTY and the Special Tribunal for Lebanon (STL), a new group of 30 Lebanese students visited the ICTY today. The group comprised of the best students from the Lebanese Inter-University Programme on International Criminal Law and Procedure, who are on a study visit to The Hague. The students had an opportunity to attend a hearing in the Mladić case, and to meet with the ICTY Prosecutor Serge Brammertz, as well as with the representatives of the ICTY Chambers and Registry, the President of the ICTY's Association of Defence Counsel and a representative of the Asser Institute.
The guests met with Christophe Paulussen, Senior Researcher at the Asser Institute. Christophe introduced them to the history and development of international justice and talked about the work of the international tribunals.
The Acting Head of the ICTY Chambers, John Cubbon, spoke to the students about the history of the ICTY and the crimes that fall under its jurisdiction. The Lebanese students had a number of questions following Mr. Cubbon's presentation, including those which dealt with the issues of holding trials in absentia, and the reasons why such trials were never conducted before the ICTY.
Gregory Townsend, Chief of the Registry's Court Support Services Section, spoke to the guests about the ICTY's rules and procedures, the work conducted by his section, the physical layout of the courtrooms and how these elements have been organised differently by different international tribunals. Among the many questions posed by the guests, one dealt with the issue of self-representation by the accused, as students wondered why someone would choose to represent himself, rather than have a professional defence lawyer. In response to this, Mr Townsend explained the advantages and disadvantages of this procedure, both for the Tribunal and for the accused.
Colleen Rohan, President of the ICTY's Association of Defence Counsel, discussed the role of the defence lawyers in trials before the ICTY, and compared it with the practice of other international courts. Prompted by students' questions about the reasons why someone would choose to take the role of a defence counsel, Ms Rohan talked about the importance of providing adequate defence and ultimately a fair trial to the accused.
At the end of the programme the guests met with the ICTY Prosecutor Serge Brammertz and had the opportunity to talk and pose questions to him. The students expressed interest in the specific work conducted by the Office of the Prosecutor, their challenges and the ways in which they overcome those challenges. Further, the students inquired about the relationship between the OTP and the defence counsel and the Prosecutor's views about the future of international law.
The visit was organised by the ICTY Outreach Programme in cooperation with the Outreach section of the Special Tribunal for Lebanon.