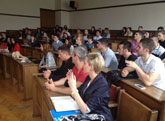 Podgorica, 09 April 2014
Ljiljana Hellman, a court officer in the ICTY Registry, today spoke to more than 60 students from the law faculty of the University of Montenegro in Podgorica about the overarching legal framework and specific ICTY practice relating to genocide and command responsibility.
This proved to be a popular topic and the students voiced questions, comments and opinions throughout the two hour lecture. They were very interested in the process of proving genocide as a crime before the ICTY, asking if it has to be a planned activity and if the number of victims is relevant.
Ljiljana explained that the threshold for proving genocide before the ICTY is very high. Since it is the most serious of crimes, the prosecution has to clearly demonstrate that there was an intent to destroy a group of people. She further explained that the number of victims is not the defining factor and that there have been cases before the ICTY where an indictment for genocide was raised based on a handful of killings.
Moving on to the second topic, the students asked for a very detailed explanation on what constitutes proof before the ICTY when it comes to command responsibility. Ljiljana explained that in order to prove command responsibility it was important to establish that an individual was in charge of a group of people which committed the crime, and that not all individual members of that group had to be specifically identified.
Following a brief discussion about the ICTY's role in the process of reconciliation in the former Yugoslavia, the students thanked Ljiljana and expressed their desire for another ICTY lecture at some point in the future. They suggested that they would very much like a lecture that focused entirely on one or two specific trials and then analysed in detail the judgements that resulted from them.