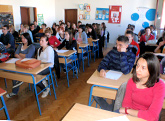 Vukovar, 26 April 2012
The Outreach Programme's Christopher Fry and Klara Dokmanović today visited the town of Vukovar, in eastern Croatia, and delivered a presentation on the work of the Tribunal to over 40 students from a local high school.
In this war-torn, ethnically divided town, both Serb and Croat students attended together, a rare event, and reacted with dignified restraint and poise to the ICTY presentation, which dealt directly with issues that affected almost every family in Vukovar.
During the first year of the war in Croatia, Vukovar was subject to an extended siege by the forces of the Yugoslav National Army. Large parts of the city were destroyed, hundreds of people were killed, and many thousands were driven from their homes.
The Vukovar gymnasium functions as two separate schools under the same roof. While Serb and Croat students follow an identical curriculum, a Serbian-speaking professor teaches the Serb students in one classroom, while a Croatian-speaking professor teaches the Croat students in another. The school principal had warned Chris and Klara that when the students sit together for special events, there is always the possibility of arguments, or worse. In fact, while the students were keen to offer opinions and ask questions, they phrased their questions delicately in order to avoid offending the students of the other ethnicity.
The confession of Milan Babić, a Croatian Serb political leader sentenced to 13 years in prison for persecutions, appeared to have a profound impact on the students.
Following the presentation, Chris and Klara held a lengthy meeting with the school principal, during which he expressed his appreciation for the presentation, and his pride in his students, who, he said, are fighting every day to avoid ethnic conflict and move forward with their lives.