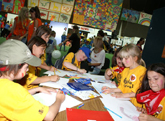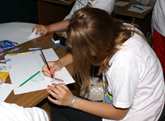 Sarajevo, 10 June 2014
The ICTY Outreach programme organised today a drawing and educational workshop at the 11th annual Sarajevo Kids Festival, the biggest independent youth festival in South East Europe.
Almir Alić, ICTY Registry Liaison Officer, introduced BiH youngsters to basic information about the work of the Tribunal and invited them to express through drawings their visions of justice. Over 100 primary school children from Sarajevo, Doboj Istok, Pazarić, Kakanj, Visoko, Istočno Sarajevo and Doboj produced vivid drawings of war time events in their country and also images clearly reflecting their true desire for a normal life in a prosperous BiH. Images of burnt villages, detention camps and destroyed buildings, were complemented by scenes from the Tribunal's courtrooms and images symbolising world peace. Through their drawings they expressed their desire for reconciliation in the region which is still living the consequences of the devastating conflict from two decades ago.
Eman, a 12-year old pupil from Sarajevo, presented in his drawing a symbolic contrast between war destruction and life in peace in an urban community. He was happy to share with other children his impressions of the ICTY workshop: "I very much like the Tribunal workshop because we can learn a lot from our wartime past, so that we do not repeat our parents' bad experiences. Drawing is the easiest way to express my feelings and I would like to take part in such a nice workshop again."