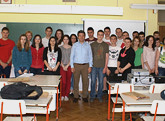 Slavonski Brod, 21 May 2013
"I had not been previously familiar with the work of the Tribunal and its functioning, so most of the information heard during today's presentation were new to me", was a comment by a 17-year old student that clearly conveys the purpose of the Outreach guest lectures in high schools in the region of the former Yugoslavia.
During the two hour presentation, the high school students of the "Matija Mesić" Gymansium from Slavonski Brod were introduced with the Tribunal's main achievements, as well as war crimes committed in their neighbourhood. "One can discuss such issues for days and not even mention a third of them", said one of the students, clearly conveying the high level of interest for the subject among the youth as well as their awareness of the Tribunal's rich jurisprudence.  The students were keen to learn more about command responsibility, mitigating circumstances affecting sentencing, as well as the sentencing policy often different from that applied in cases of crimes committed in times of peace.
Almir Alić, ICTY Outreach representative, offered detailed responses to students' questions that often transcended the scope of the work of the institution. The students wanted to learn more about transitional justice and the role of war crimes courts, as important mechanism in the process. One Slavonski Brod student evaluated as positive the Tribunal's contribution to punishing war criminals in the former Yugoslavia "Because it has also punished the crimes committed by the most senior leaders."
At the end, the two hour presentation was greeted with applause from the attending students and professors. "Keep up the good work!" was a clear message from an 18-year student of the Slavonski Brod Gymnasium about the importance of such type of communication with young people in the countries in the region.