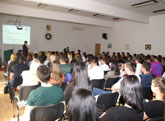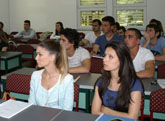 Mostar and Zenica, 2 - 3 June 2014
Guest lectures at the law faculties of universities in Mostar and Zenica continued the ICTY Outreach Programme's excellent cooperation with institutions of higher education in Bosnia and Herzegovina (BiH).
Aleksandar Kontić, a legal advisor in the Tribunal's Office of the Prosecutor, talked to the students about the 20 cases in which persons indicted by the Tribunal have pleaded guilty, and how the plea agreements work in practice.
A total of more than 150 students from the law faculties of the Džemal Bijedić University in Mostar and the University of Zenica benefited from Aleksandar's first-hand knowledge of the topic. The plea agreement is a relatively new practice in BiH law, introduced to the country's Criminal Code in 2003. Therefore, the chance to learn from a lawyer practising at the highest level was recognised by the students as being of great benefit to their future professional development.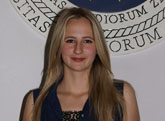 Amina Pivić, age 21, third-year student:
"In light of the sentiment and the situation prevailing in our society when it comes to war crimes, I had thought that the sanctions imposed on convicted war criminals were lenient. However, during the presentation I came to understand the role of the judges and the importance of guilty pleas by persons who committed the crimes. Looking at it as a lawyer, I believe that individuals who have committed such crimes and later truly repented and pleaded guilty, but also helped in future proceeding and in locating mass graves, have the right to have their sentences reduced."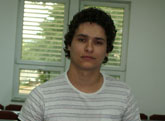 Bešir Isaković, age 22, third-year student:
"Overall, it was useful and interesting to learn and understand how the perpetrators of the most serious crimes are treated. Since the context of the presentation is closely tied to what happened in my country, I found every word of it very useful. Finally, I believe that everything that is happening at the ICTY is not and cannot be deemed to provide sufficient satisfaction to the victims; however, what is positive is that, by the very existence of the Tribunal, the memory of the victims will live on."