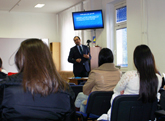 Sarajevo, 15 and 16 December 2014
Lectures on the topic of prosecuting and adjudicating for acts of genocide in the jurisprudence of the ICTY, held on 15 December at the Faculty of Criminology and on 16 December at the International University of Sarajevo, concluded this year's cycle of lectures about the Tribunal at BiH universities.
Amir Čengić, Legal Officer with ICTY's Chambers held two hour presentations at both faculties and informed more than 50 students and lecturers about the legal genesis of crime of genocide, from its definition after the end of WWII, all the way to the first court judgements issued by the international tribunals for Rwanda and the former Yugoslavia.
Students of the Faculty of Criminology were interested to know how difficult it is to prove specific intent to commit genocide, and why members of political organisations are not a part of protected groups when it comes to the crime of genocide. In the practical sense, students were interested to know whether an agreement of more people is necessary to commit such a complex crime, and whether a state can be accused of genocide, if its political and military leaders are found guilty of this crime.
At the International University of Sarajevo, on the other hand, student wanted to know if there was a possibility for a verdict that genocide was committed in other municipalities of BiH, since ICTY so far only established that the mass execution of Bosniak men and boys in Srebrenica amounted to the only crime of genocide in BiH. In the wider context of defining the crime of genocide, the students suggested that the current convention on genocide should be reformed to include as protected groups, members of groups of specific sexual orientation, but also political groups.
Students at both faculties evaluated the lecture as excellent and thanked the ICTY's Outreach Programme for providing them with the opportunity to have first-hand information about the work and achievements of the ICTY.