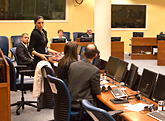 The Hague, 24 September 2013
A group of high-level administrators and IT specialists from the judicial system of the former Yugoslav Republic of Macedonia (FYROM) visited the ICTY on 24 September. The visit was organised by the Tribunal's Outreach Programme in cooperation with the Judicial Strengthening Project of the United States Agency for International Development.
The visitors met with representatives of the Court Management and Support Section (CMSS), and the Information Technology Service Section (ITSS), and discussed the Tribunal's work in these specialist areas.
Presentations given by CMSS and ITSS staff were extremely well-received and the group had numerous questions related to the administrative and technical aspects of the Tribunal's work. Among the topics discussed were the role played by Chambers Legal Officers in the courtrooms; what happens with the transcripts of the hearings; who drafts the judgements; how tapes, documents, and transcripts are archived and stored; who issues orders for redactions; and what happens when confidential information is mentioned in public hearings.