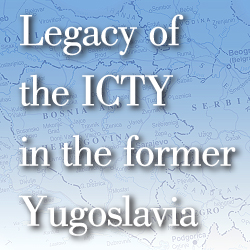 Sarajevo, 6 November 2012
Conferences of the Outreach Programme of the ICTY sponsored by the EU, the Governments of the Netherlands and Switzerland
Opening Remarks
Speakers:

Judge Carmel Agius, Vice-President, ICTY
Prof. dr. Alija Behmen, Mayor of Sarajevo
H.E. Ambassador Peter Sørensen, Head of the EU Delegation to BiH and EU Special Representative in BiH
Panel 1: What is the Tribunal's Legacy and his role in transitional justice process?
Moderator:

Nerma Jelačić, Head of Communications, ICTY
Panelists:

Judge Carmel Agius, Vice-President, ICTY
Hilmo Vučinić, Judge, Court of BiH
Edin Ramulić, Activist, Izvor NGO, Prijedor, BiH
Dr. sc. Zarije Seizović, Professor, Faculty of Political Sciences, Sarajevo University
Aleksandar Trifunović, Editor, Buka media project, Banja Luka, BiH
Panel 2: Dealing with the past beyond the Tribunal- The role of the mechanism for International Criminal Tribunals (MICT), national judiciaries and no-judicial accountability mechanism.
Moderator:

Aleksandra Letić, Helsinki Committee of Republika Srpska, Bijeljina, BiH
Panelists:

Martin Petrov, Chief, Immediate Office of the Registrar, ICTY
Ibro Bulić, Prosecutor, BiH Office of the Prosecutor
Nidžara Ahmetašević, Journalist and Analyst, BiH
Doc. dr. sc. Goran Šimić, Professor/Member of the Expert group on Bosnia's transitional justice strategy, BiH
Dino Mustafić, Film and Theatre Director, BiH
Panel 3: The future of the past: the scope of the ICTY Legacy
Moderator:

Refik Hodžić, Director of Communication, International Center for Transitional Justice (ICTJ)
Panelists:

Judge Fausto Pocar, ICTY
Branko Todorović, Head, Helsinki Committee for Human Rights in Republika Srpska, Bijeljina, BiH
Alma Mašić, Head, Youth Initiative for Human Rights in BiH
Anisa Sućeska-Vekić, Director, Balkan Investigative Reporting Network (BIRN) BiH
Panel 4: The importance of the Tribunal's archives
Moderator:

Thomas Osorio, Advisor on the Rule of Law and Human Rights, UN BiH
Panelists:

Gabrielle McIntyre, Chef de Cabinet for ICTY and MICT President
Saša Madacki, Head, Human Rights Center of University Sarajevo
Miroslav Živanović, Deputy Mayor of Sarajevo
Elisabeth Baumgartner, Head, Dealing with the Past Programme, Swiss Peace Foundation
Closing Remarks:
Panelists:

Judge Fausto Pocar, ICTY
H.E. Jurriaan Kraak, Ambassador of the Kingdom of the Netherlands to BiH
H.E. Andre Schaller, Ambassador of Switzerland to BiH